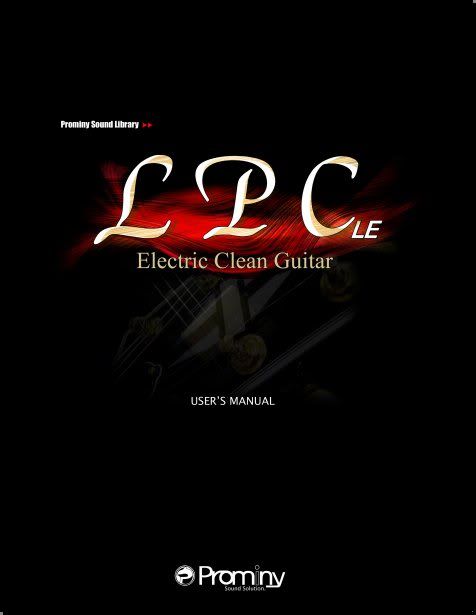 Prominy - LPC Electric Distortion Guitar LE | Kontakt 4 | 769 MB
Ultra Real-sounding Electric Guitar sample library - The true sound of Gibson® Les Paul

Custom. LPC Electric Guitar LE enables you to compose and create natural guitar tracks
that imitate real guitar playing!

Incredible real-time playability

With LPC Electric Guitar LE, you can play ultra realistic guitar performance in real-tim
You can access the following playing techniques instantly without stopping your
performance and create convincing guitar tracks very quickly.

Single note Realtime Legato Slide
Single note Realtime Hammer-on and Pull-off
Single note vibrato (deep & light)
Single note mute and picking noise
Picking Tremolo
Trill
Pinch harmonics
5th-dyad chord (Power Chord) Realtime Legato Slide
5th-dyad chord (Power Chord) mute and picking noise
Unison bend
Scrape
Fret noise, Pick stop noise, and Bridge mute noise

Auto Stroke Detection
With LPC's Auto Stroke Detection feature, LPC automatically detects the current be
position and identify proper stroke direction (down or up). There are several stroke
detection modes and you can also control stroke direction manually.

Double-Tracking
This is a technique which is frequently used in recording guitar tracks. It gives the guitar
track a nice, wide-spread stereo images and thickness. With LPC Electric Guitar LE, you
can reproduce it very easily just by loading the double-tracked patch
('LPC_LE_doubletrack.nkm' for Kontakt 3, or 'LPC_LE_doubletrack.kps' for
Kore+Kontakt3). No identical samples are played simultaneously in both channels. You
don't need a stereo delay or tweaking your midi data to emulate the double-tracking.

Realtime Legato Slide
Realtime Legato Slide feature using 'real' legato samples is available in single note,
5th-dayd chord (power chord) With LPC's Realtime Legato Slide feature, you are able to
get perfectly real expressions of the human finger's legato slide that can not be reproduced
with slide emulation by changing pitch.